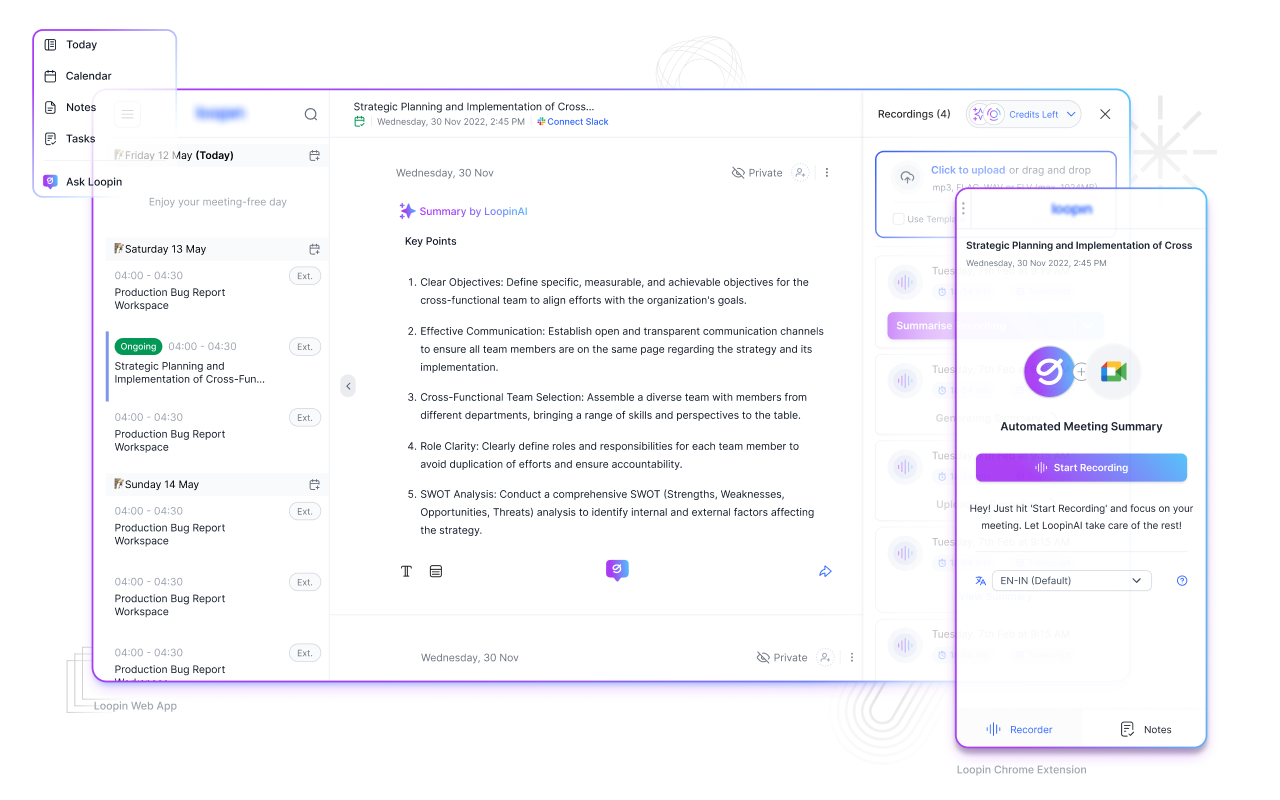 LoopinHQ
Introduction
In today's fast-paced business environment, effective communication is at the heart of success, and meetings play a pivotal role in collaboration. However, the sheer volume of meetings can lead to critical insights being lost in the shuffle, making it challenging to keep track of decisions and action items.
Our mission: Empower teams and individuals with a platform that records, transcribes, and summarizes all their meetings, unlocking the hidden insights within.
The Problem
Meetings are essential for collaboration, but they often lead to information overload, time-consuming transcriptions, knowledge silos, poor retention, and difficulties in diverse work environments.
These challenges hinder productivity and the sharing of valuable insights with the stakeholders.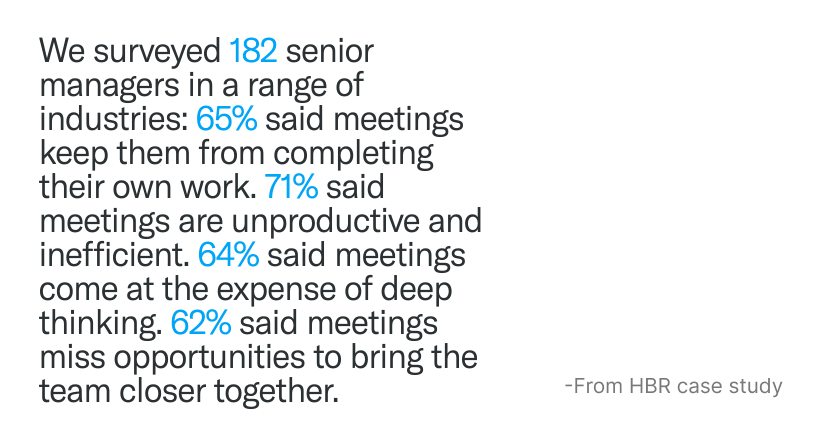 Loopin was born to address the challenges of unproductive meetings by simplifying the process, providing automated meeting summarization, offering insightful post-meeting interactions, & ensured that critical insights are never lost.
…ultimately enhancing team productivity.
My Role
As the Lead Designer at Loopin, I undertook a pivotal role in reshaping our product's design landscape. When I joined, the company was undergoing a critical transition from relying on an external agency for the past two years and wanted to bringing the design process in-house.
I collaborated closely with my Product Manager and CEO as an integral part of the product team. Additionally, I worked with the engineering team, primarily focusing on the frontend, to ensure the handoff was seamless.
My team, consisting of four engineers and one product manager, followed an agile development approach, emphasizing rapid and frequent releases to ship fast.
Competitive Research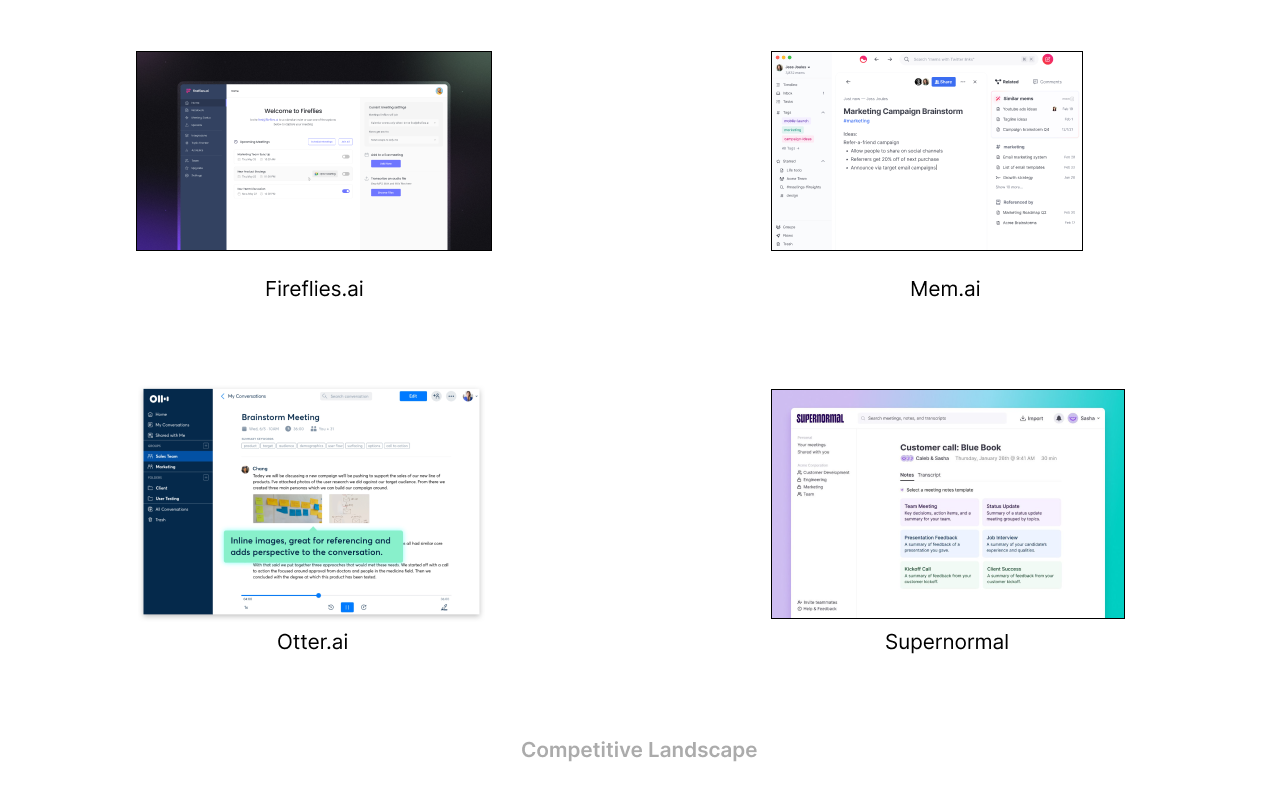 Understanding Our Users
To gain deeper insights into our user base, I collaborated with my Product Manager to implement a straightforward survey that was strategically introduced during the onboarding process and upon launching the dashboard for existing users.
Although a meeting tool like Loopin have general users, my goal was to dive into the specifics of our user demographics in relation to their work functions. This valuable data empowered me to gain a deeper understanding of our users providing valuable insights into their mental models.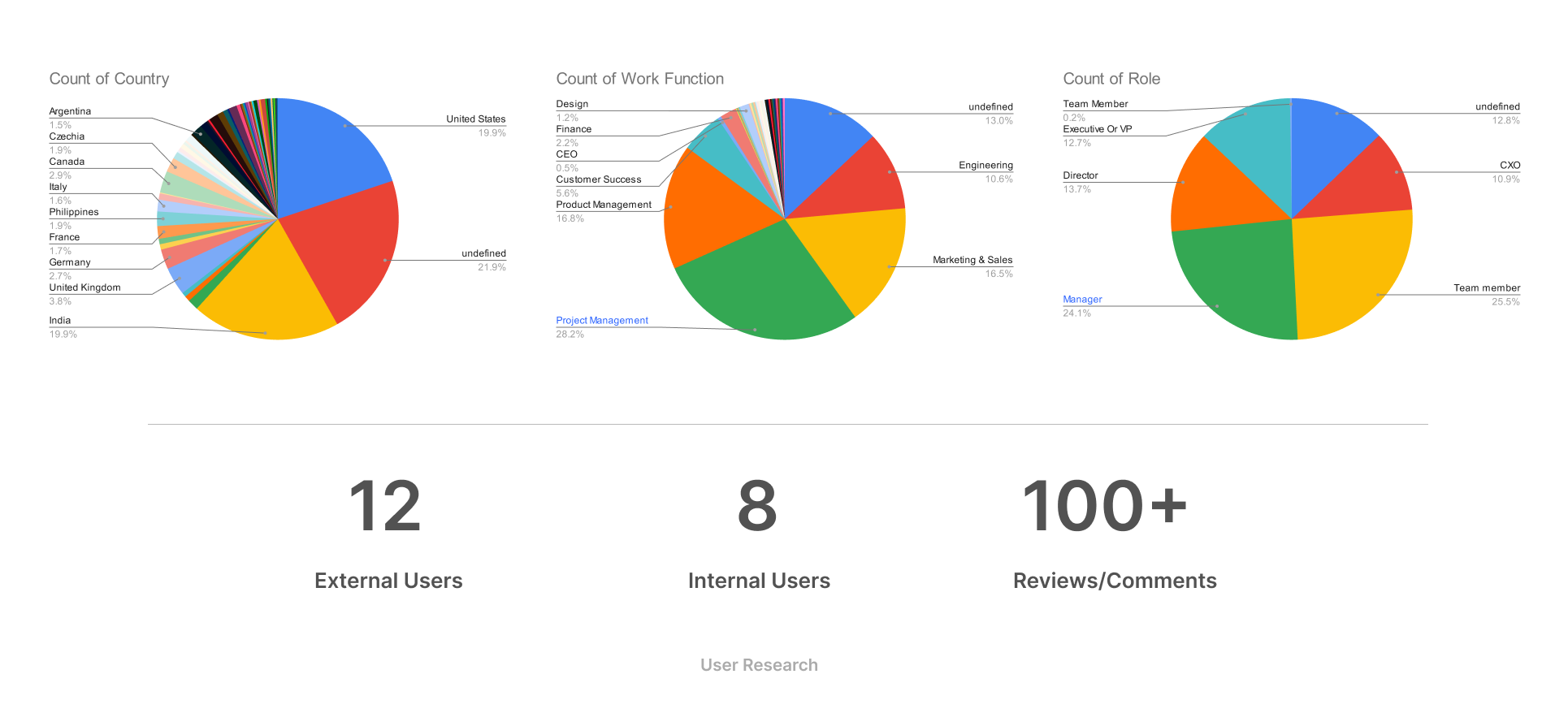 I partnered with my PM to get on user interview calls with users from various domains like Customer Success, Product Management, Sales. I also spoke with my internal teams as they were using the product for all internal meetings.
On top of this I conducted a UX Audit: Conducting this study allowed me to obtain valuable insights from both internal and external perspectives. I go to know key aspects of our product's usability, shed light on user pain points, and afforded a comprehensive understanding of where I would need to focus.
Solutions Walkthrough (Personas + UI Screens)
NOTE: Each solution screen features numbered coachmarks represented by red circles. Below each image, you'll find explanations corresponding to each of these coachmarks.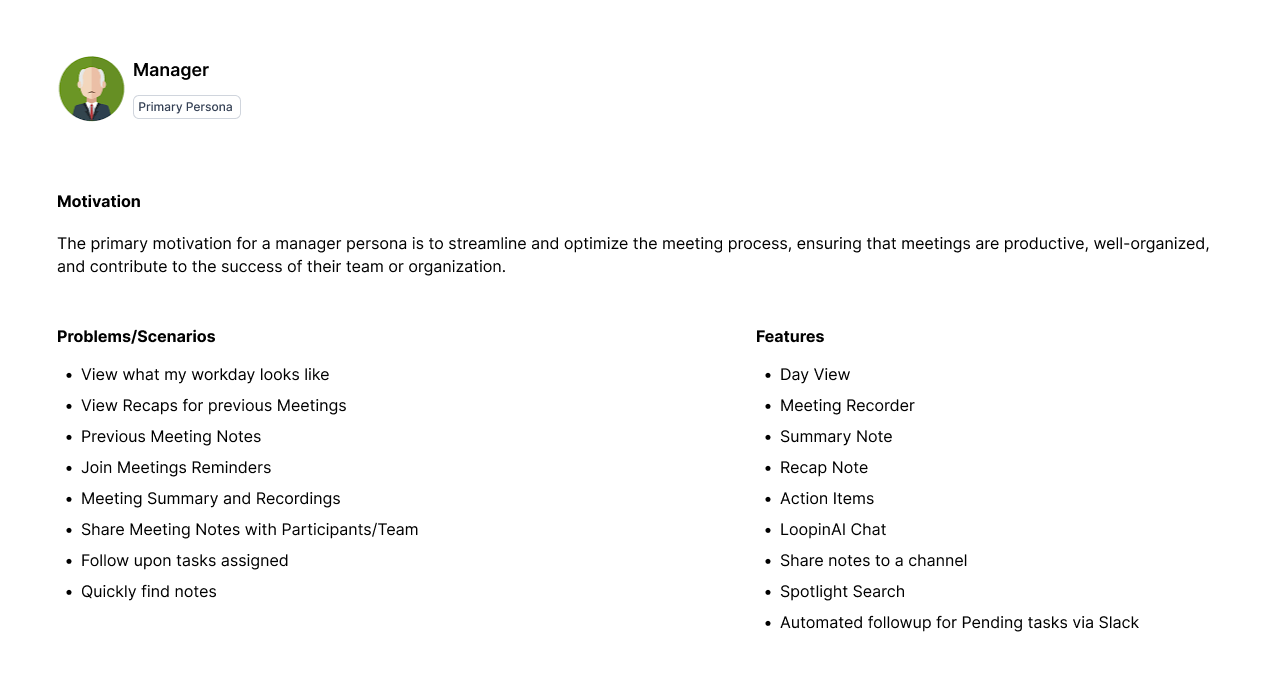 ⬆️ Primary Persona: Manager.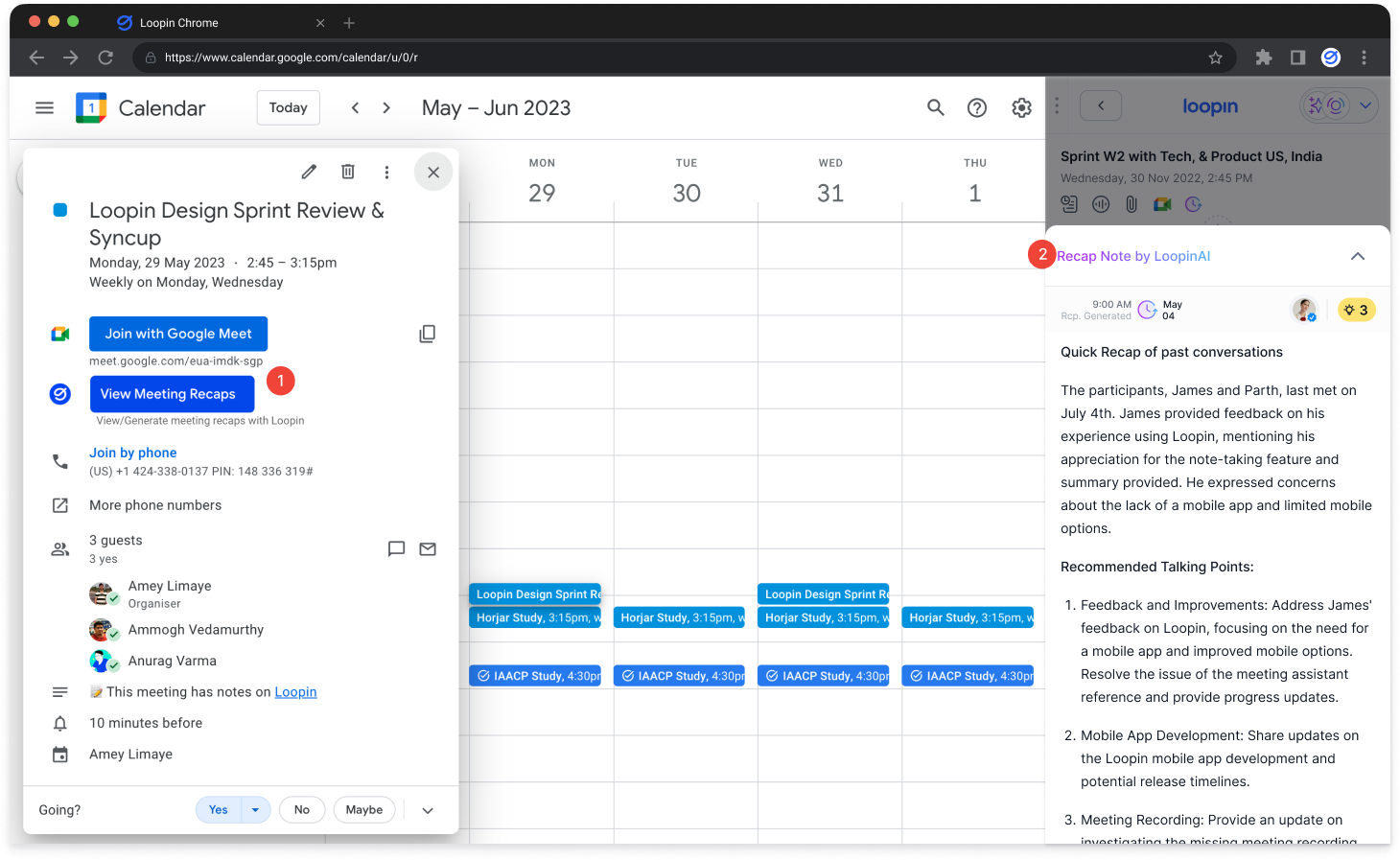 ⬆️ Loopin Recap Note on the CE (Right Panel).
Recap Note: Automatically generates recap of past meetings, accessible via the Chrome extension during calendar event browsing. Dynamically switches to the selected event's recap note.
Recap Notes are automatically generated 10 minutes before a meeting begins and the user is notified via Slack as well.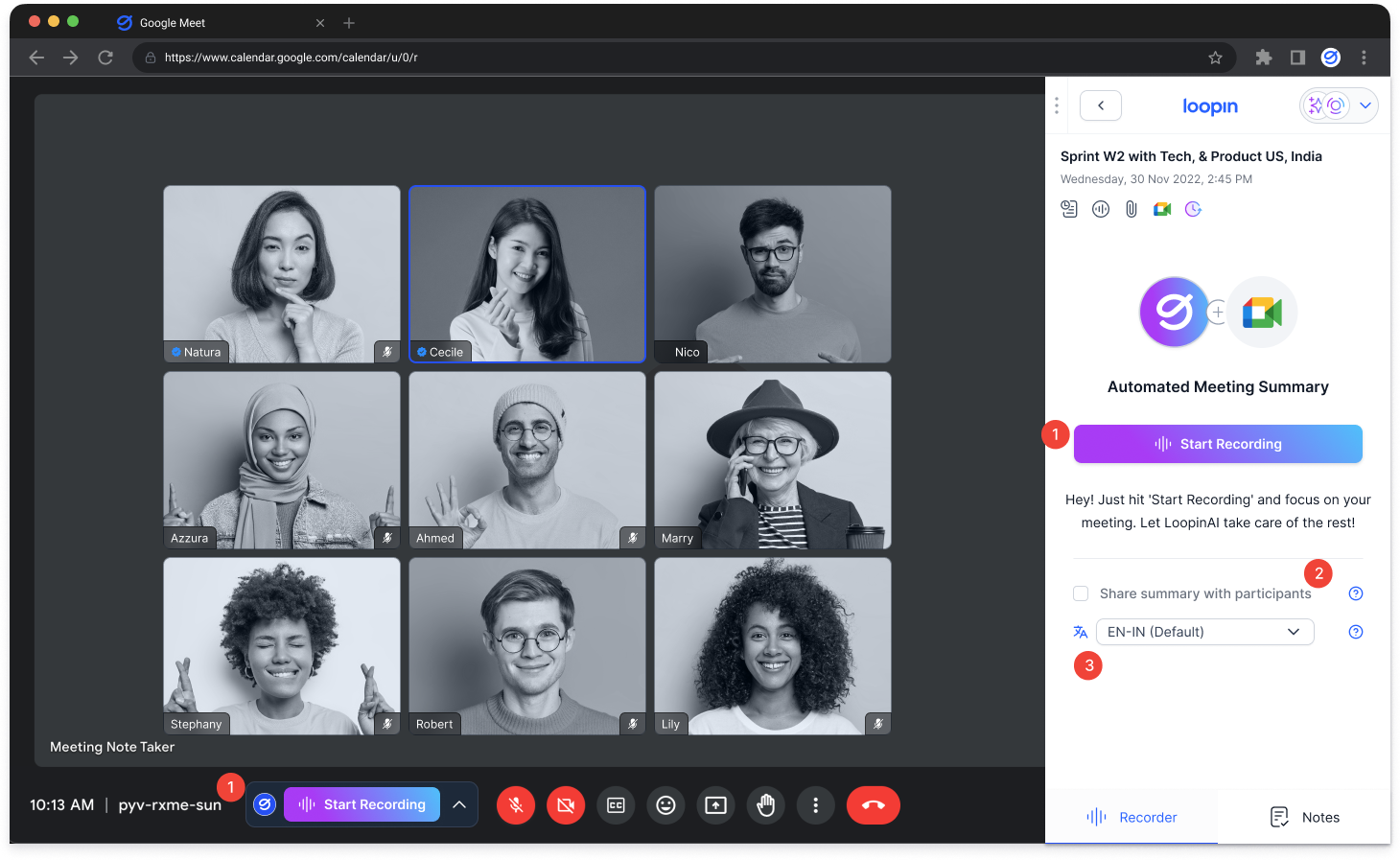 ⬆️ Loopin Chrome Ext.
When user joins a meeting Loopin chrome extension opens automatically ready to start recording the meeting.
Additionally user may choose to share summary with participants post meeting after summary is generated.
Loopin also enables multi - language selection for summary generation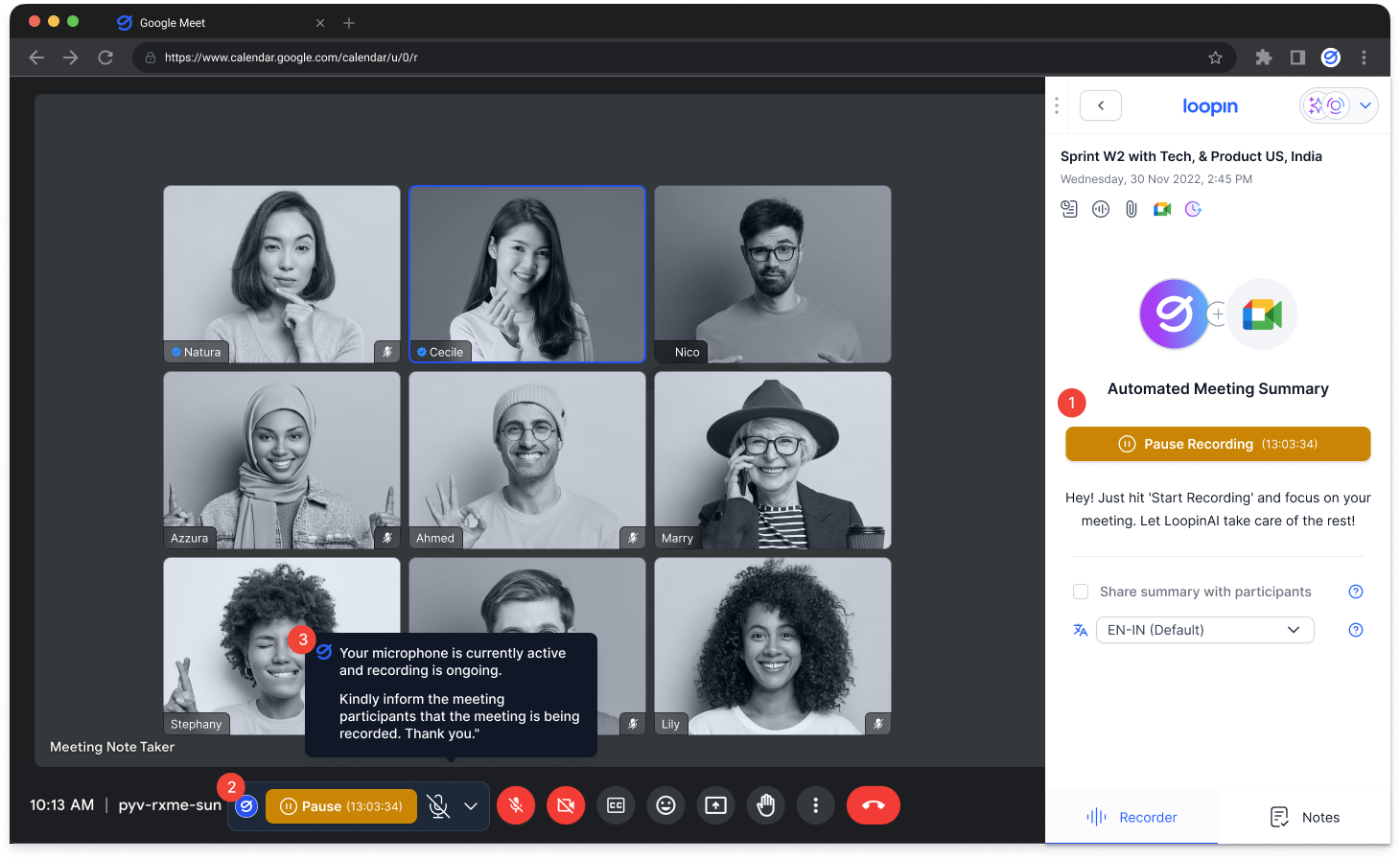 ⬆️ Loopin Chrome Ext.
While the meeting is in progrees, user may pause recording and resume anytime.
The floating widget allows users to view the status of recording and perform quick actions. This also helps users as the sidepanel can be closed
Apart from this, the floating widget provides various curicial messsages the users to ensure the meeting recording is not interrupted.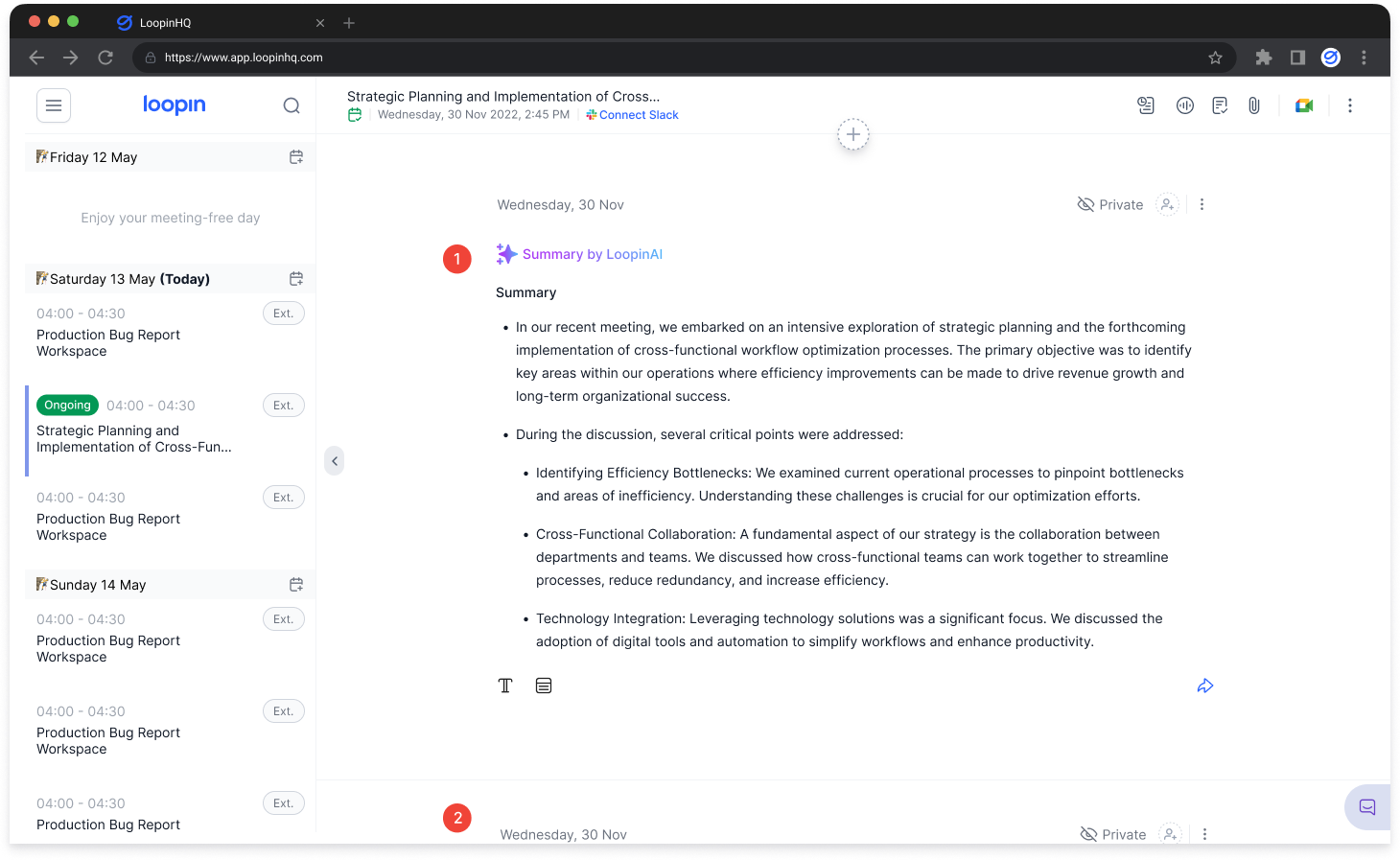 ⬆️ Loopin Web App Day View.
Post Meeting the summary for recorded meetings are available on the web app.
Older summaries for a recurring meeting are threaded and available on scroll.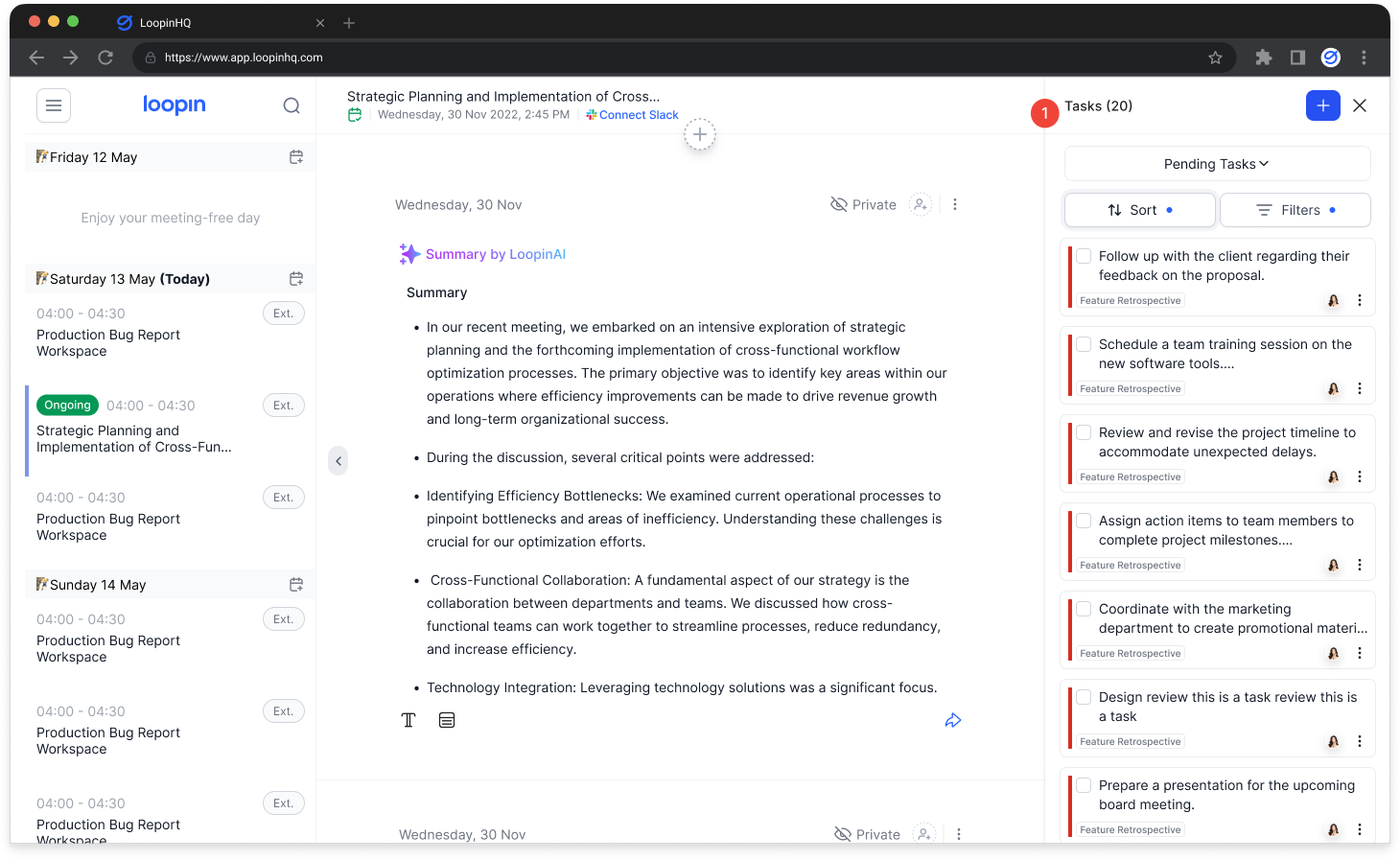 ⬆️ Loopin Web App Tasks (Right Panel).
Users can quickly create new tasks and later manage them on a Kanban board. Tasks can be assigned and Loopin will follow up on assigned tasks.
Future Implementation: AI auto task extraction from a summary note.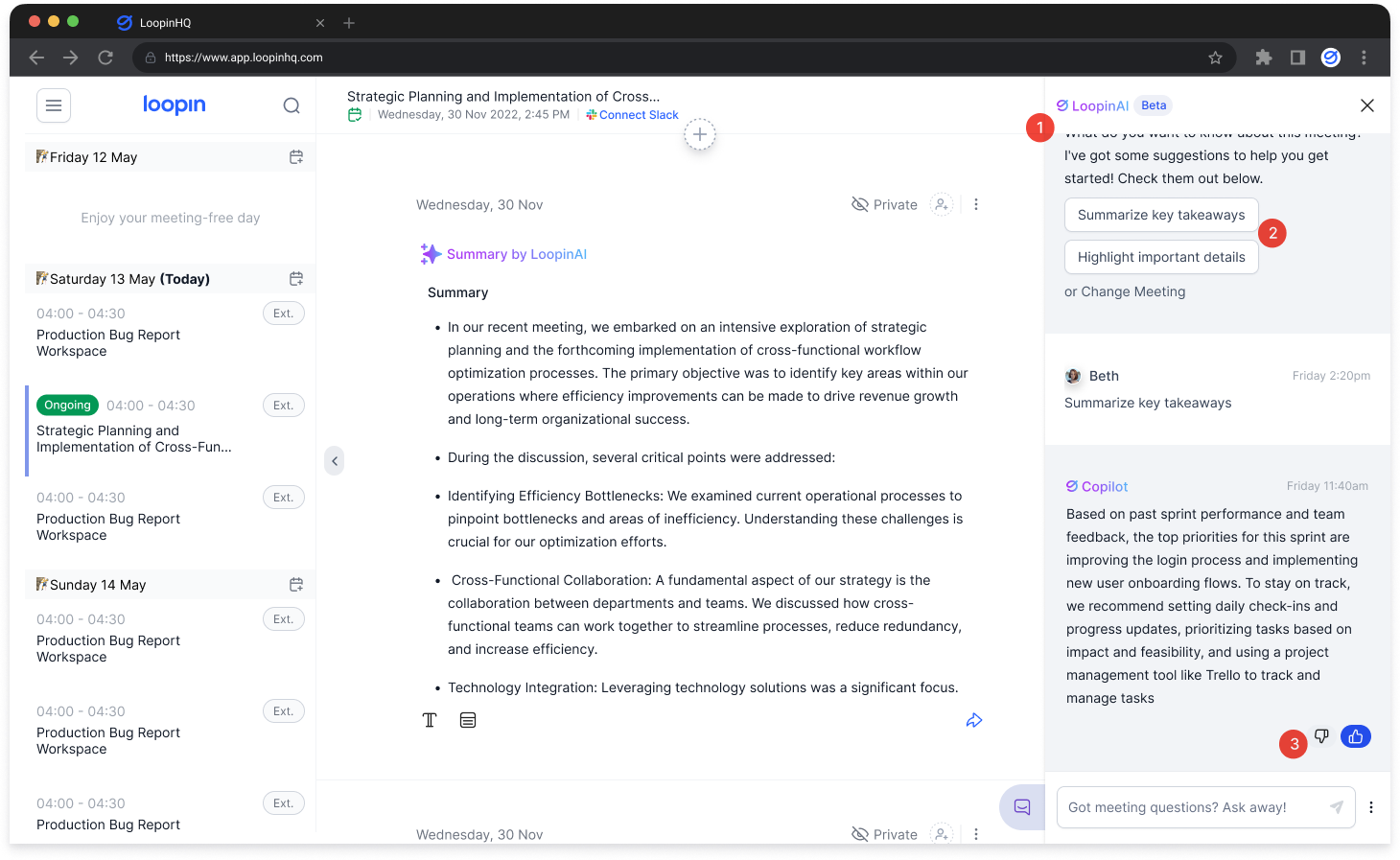 ⬆️ Loopin Web App AI Chat (Right Panel).
Users can engage with LoopinAI through a chat-based interface, allowing them to ask meeting-related questions and seek information.
The AI chat provides user-friendly suggestion options to streamline and initiate conversations effortlessly.
Users can rate responses, and if a response receives a negative rating, it triggers regeneration, allowing our team to continually refine and enhance the quality of interactions.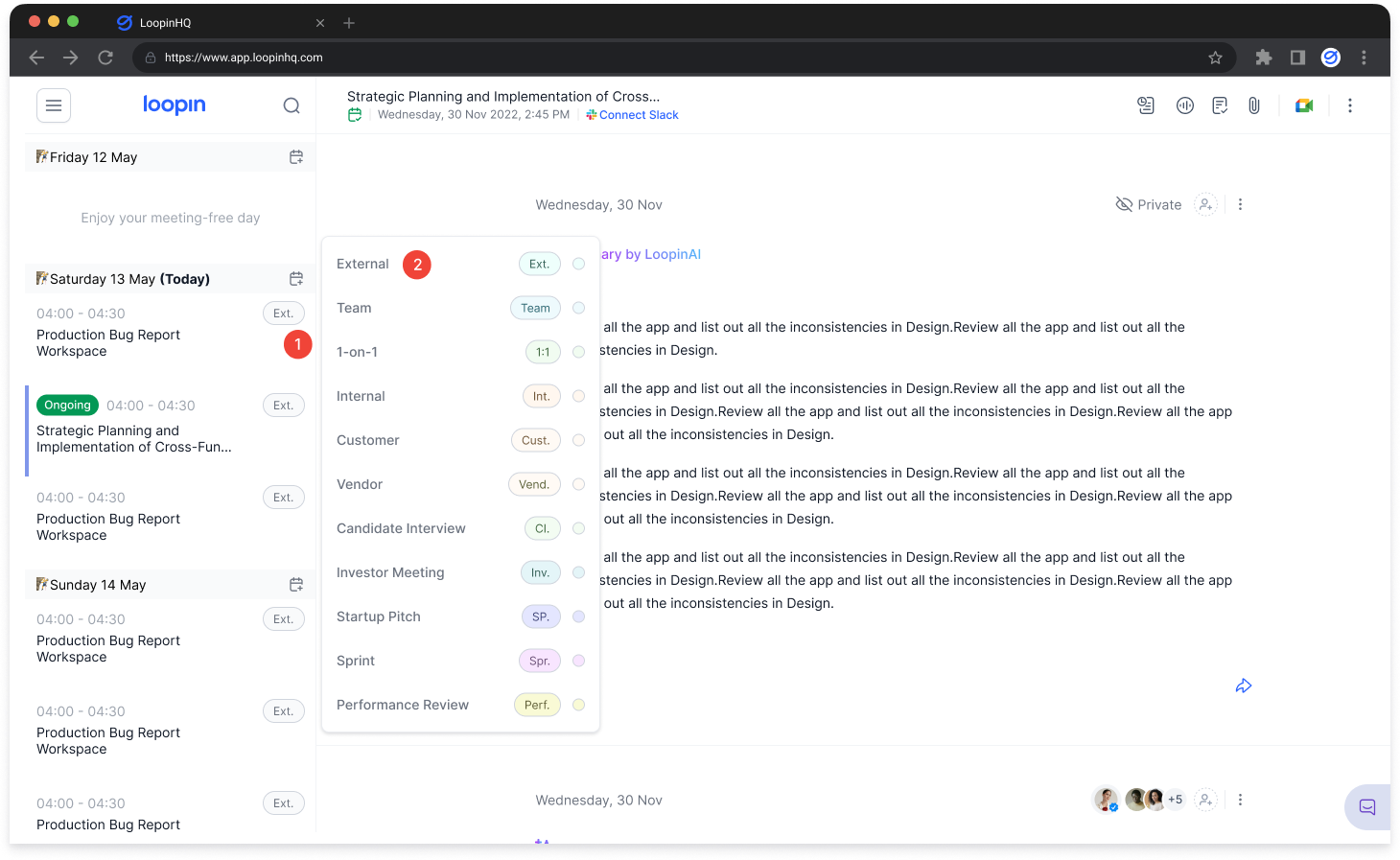 ⬆️ Loopin Web App Meeting Tags (Left Panel).

Meeting tags offer a simple and effective way to categorize your meetings, making it easier to identify whether they involve external participants, internal team members, or other specific groups. This feature helps you quickly filter and manage your meetings based on their context.
Users can quickly assign/change a meeting tags as required.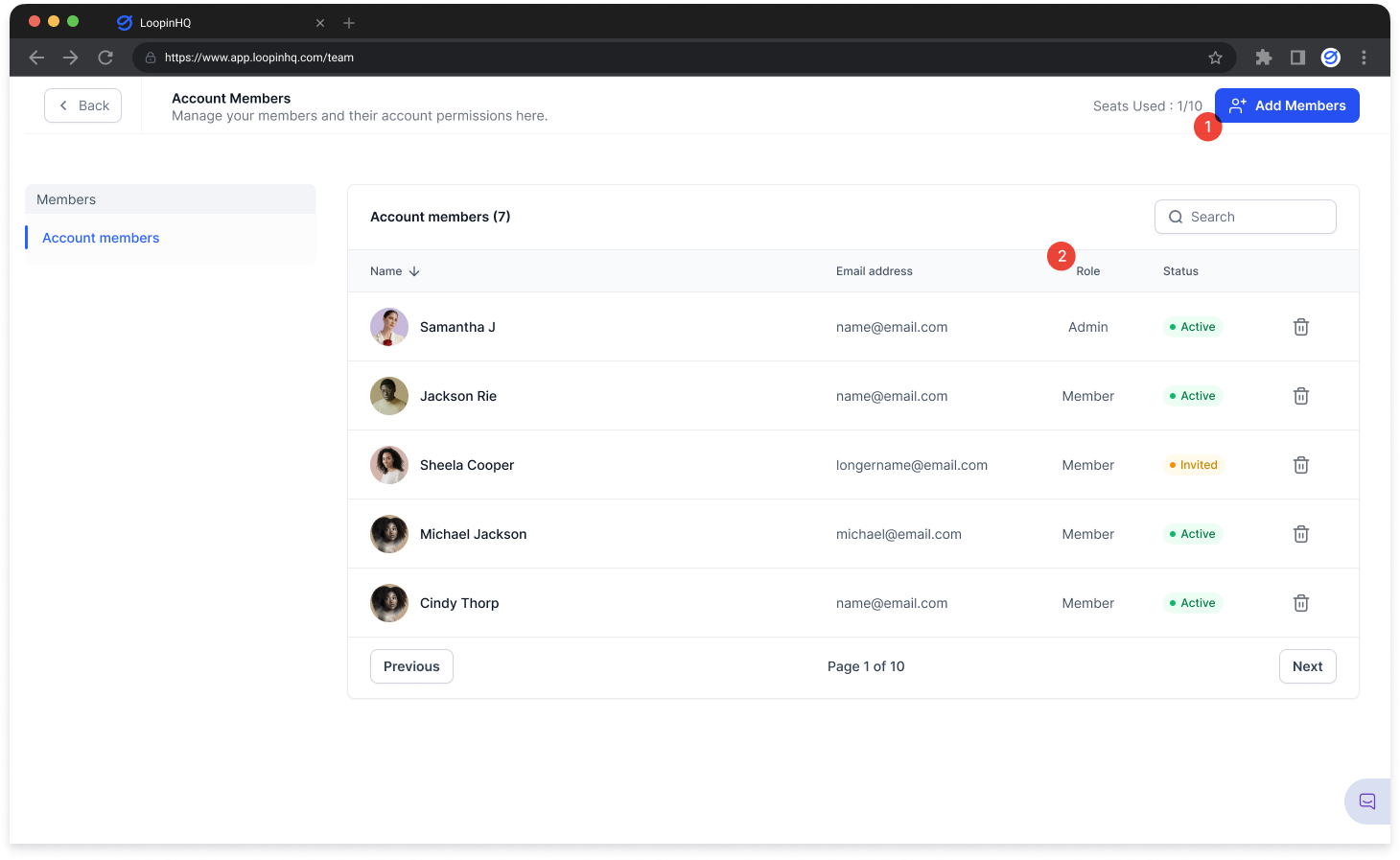 ⬆️ Loopin Web App User Management.
Managers often invite their teams to join Loopin. Seats can be added here.
Roles, such as 'Admin,' can be assigned to users, granting specific privileges and responsibilities within the platform.
Secondary Persona : Sales Users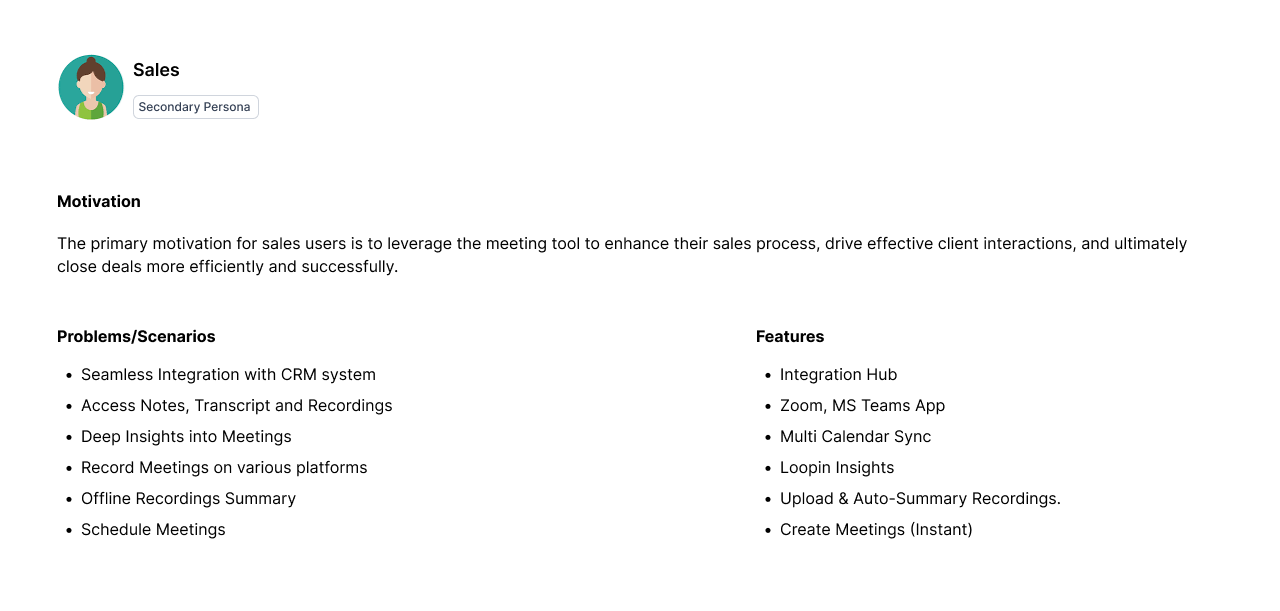 ⬆️ Secondary Persona: Sales.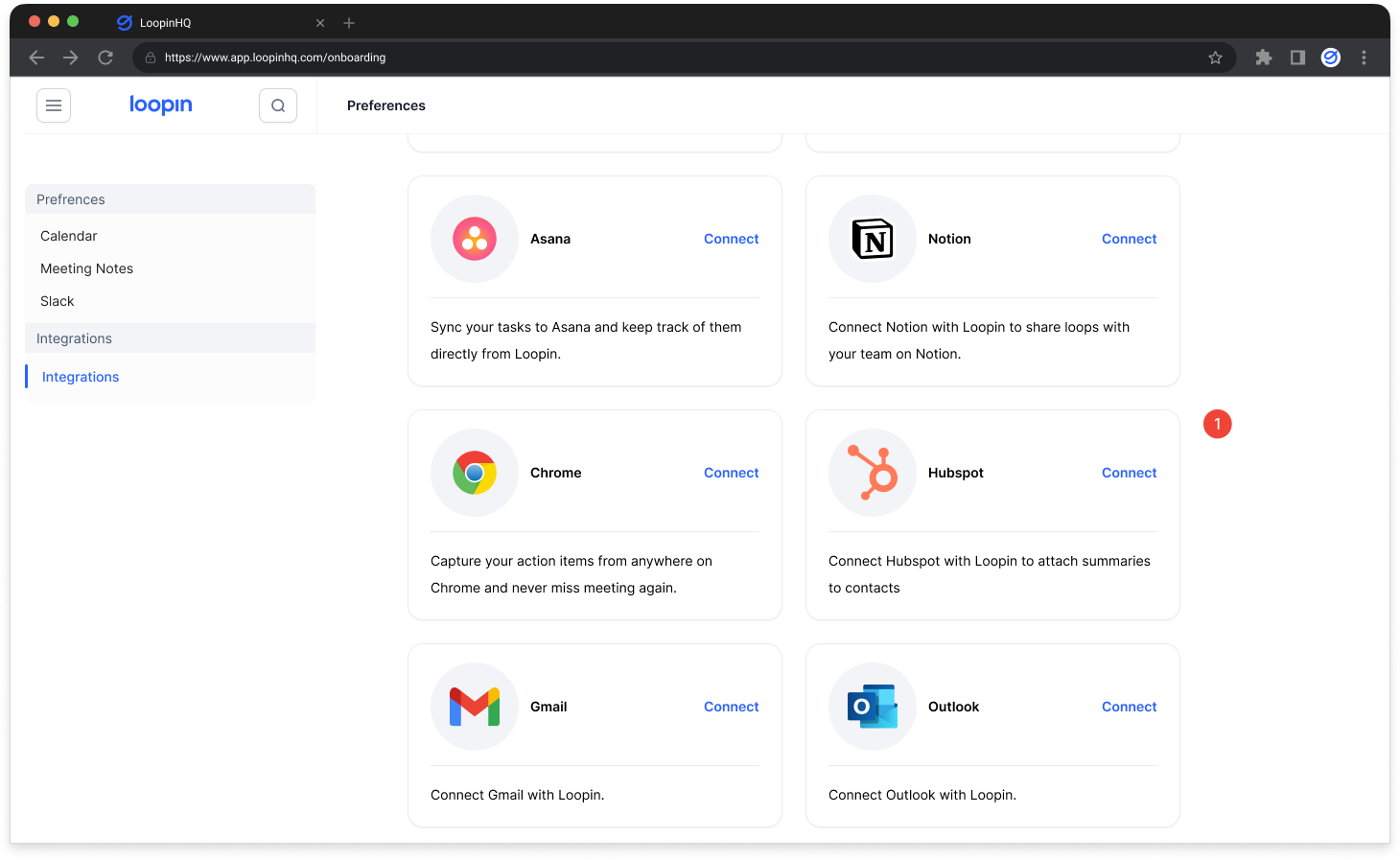 ⬆️ Loopin Web App Integrations.

Loopin provided users with integrations for widely used tools such as HubSpot and Outlook, offering valuable functionality, especially for sales users.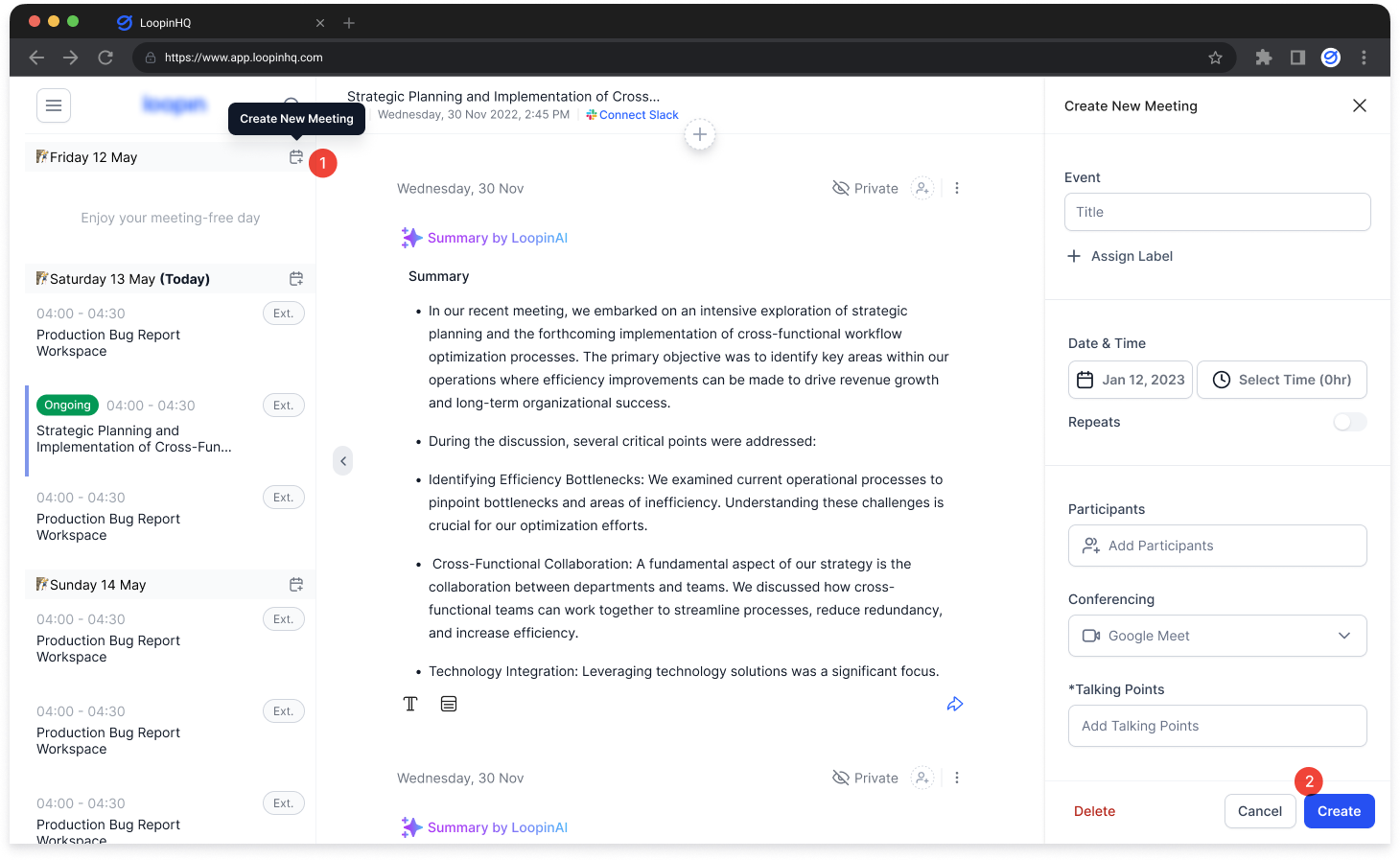 ⬆️ Loopin Web App Create A Meeting.
Sales users often need to quickly schedule calls; they can do so directly from the dashboard.
Initiating a meeting on Loopin synchronizes all connected calendars.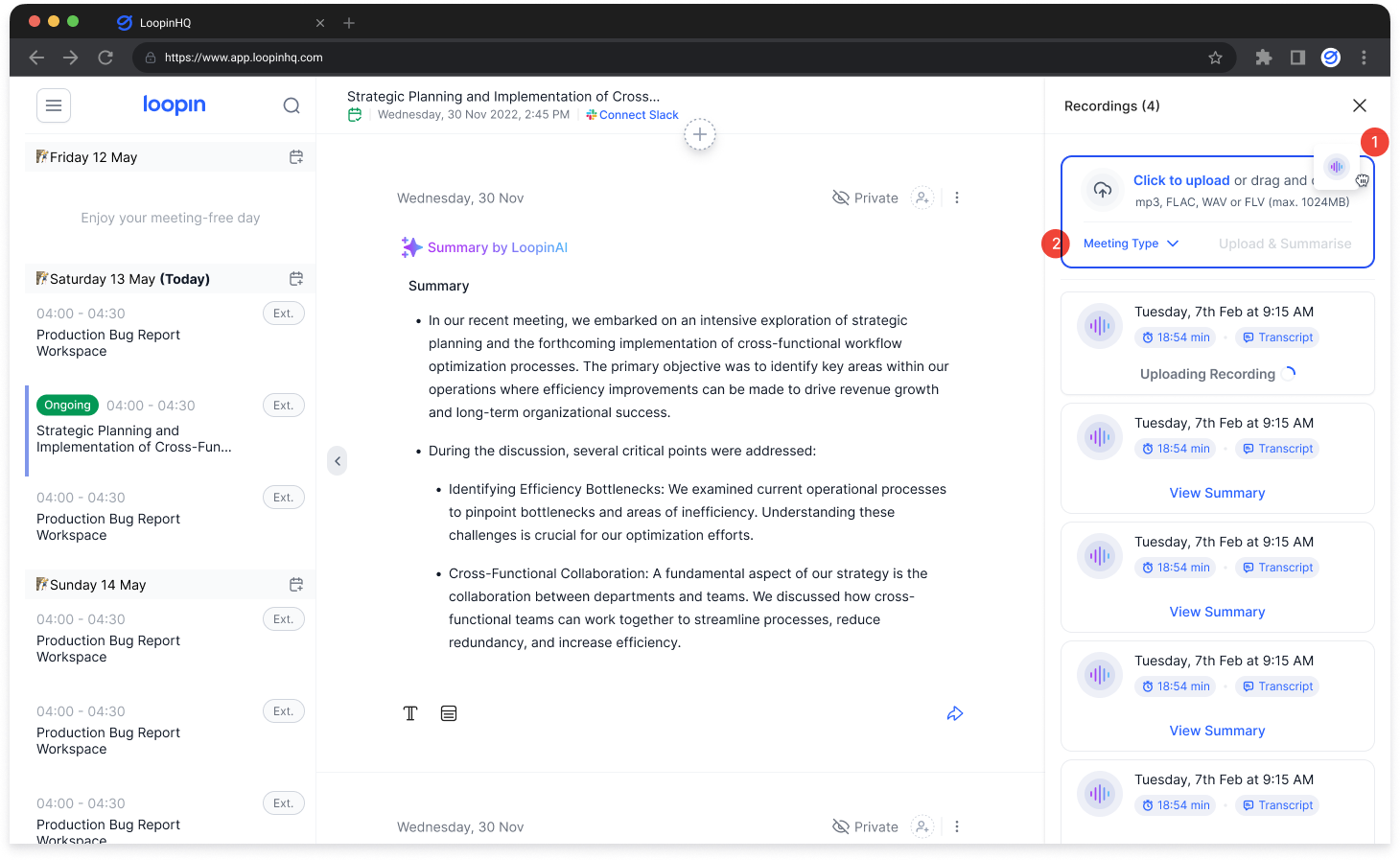 ⬆️ Loopin Web App Upload Recordings (Right Panel).
Sales calls often occur through direct phone calls. In such cases, users can upload their recordings and automatically generate summaries.
By choosing a meeting type (template), users can obtain a well-structured summary.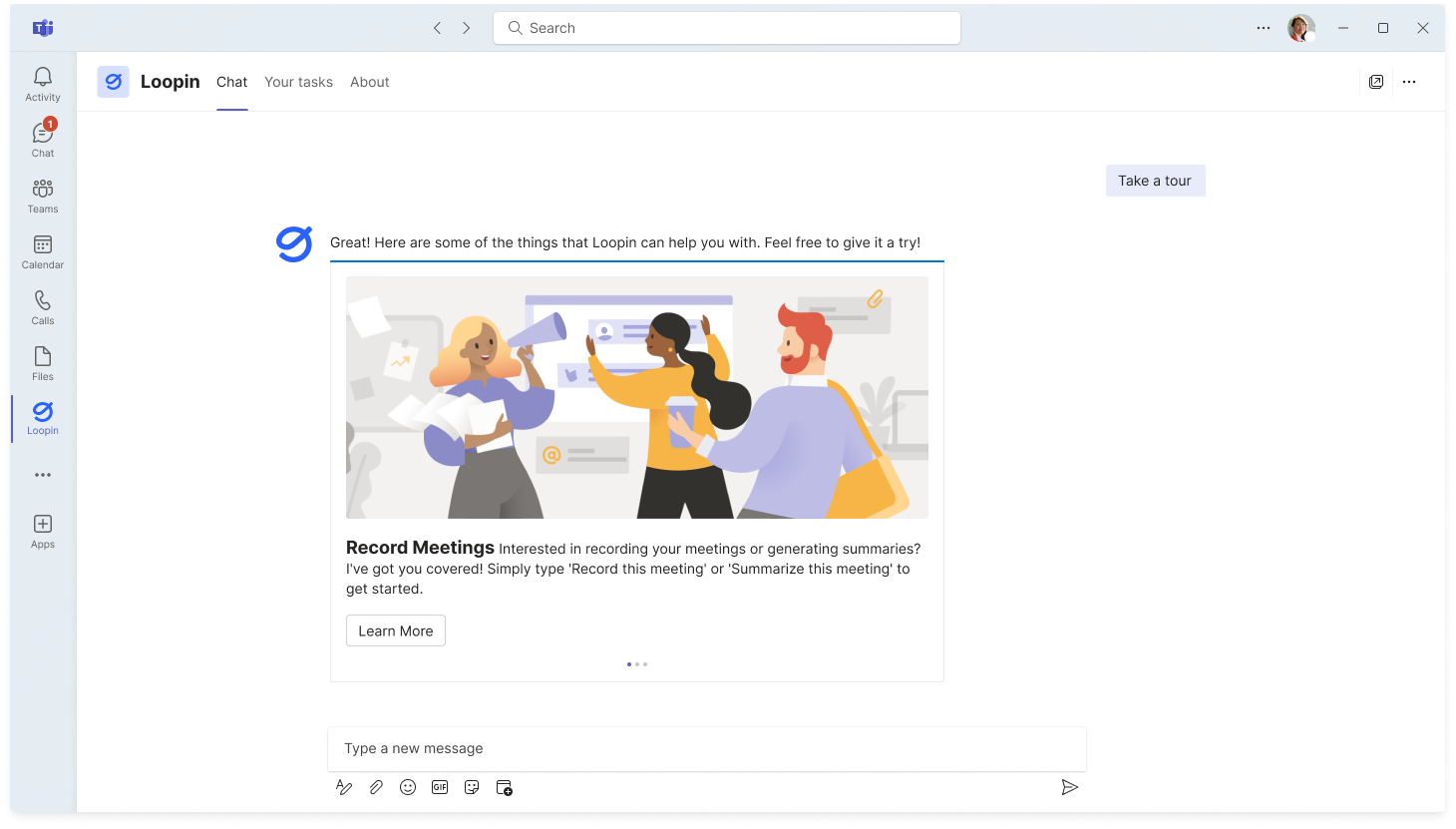 ⬆️ Loopin App on MS_Teams.

MS-Teams:Loopin's multi-platform design greatly benefited our sales users.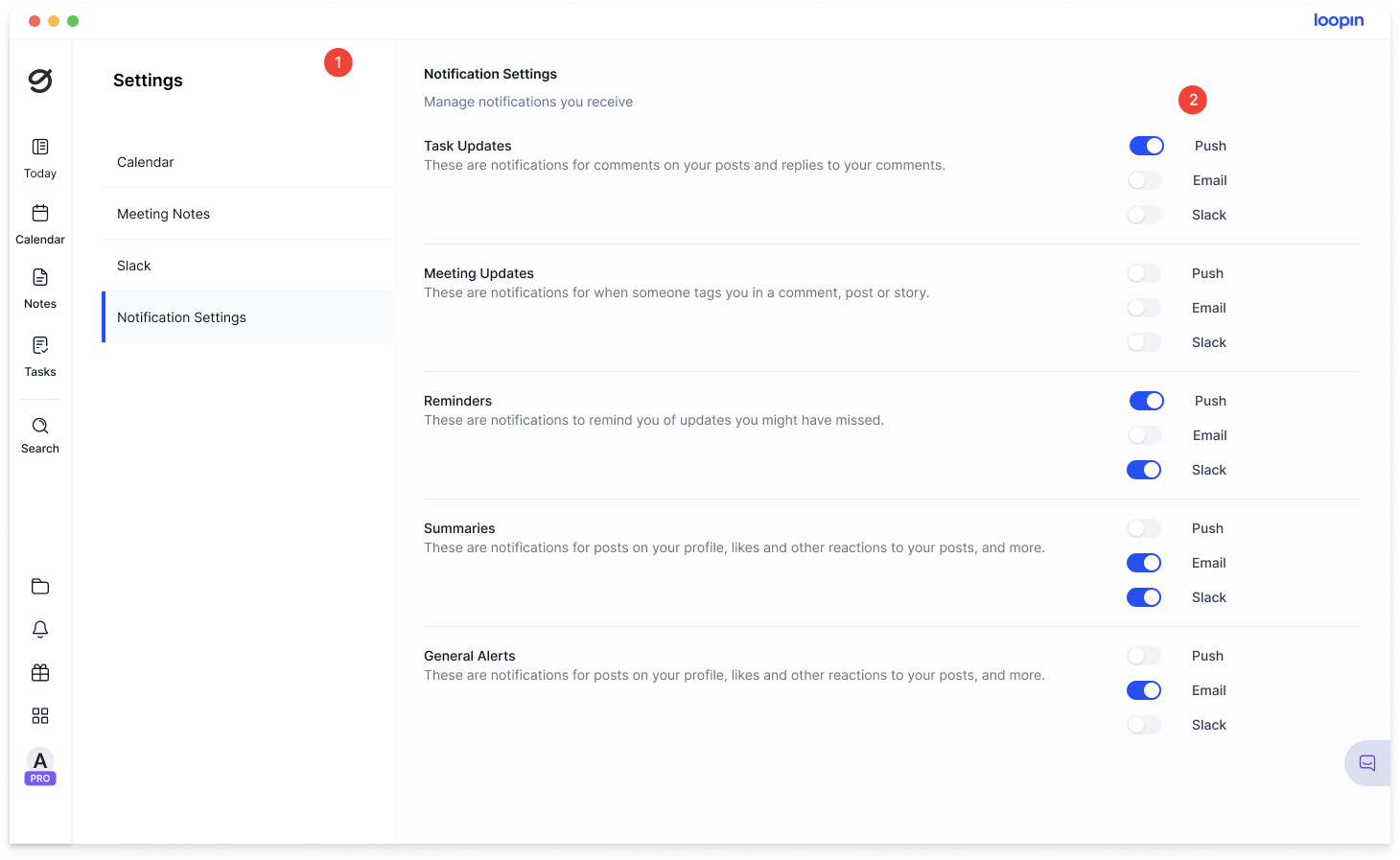 ⬆️ Loopin Mac App.

Mac App:Loopin's multi-platform design greatly benefited our sales users.
The Mac app offered users extensive customization options for native notifications, ensuring they remained informed and connected while using other apps in their workflow stack. Quite helpful for sales users.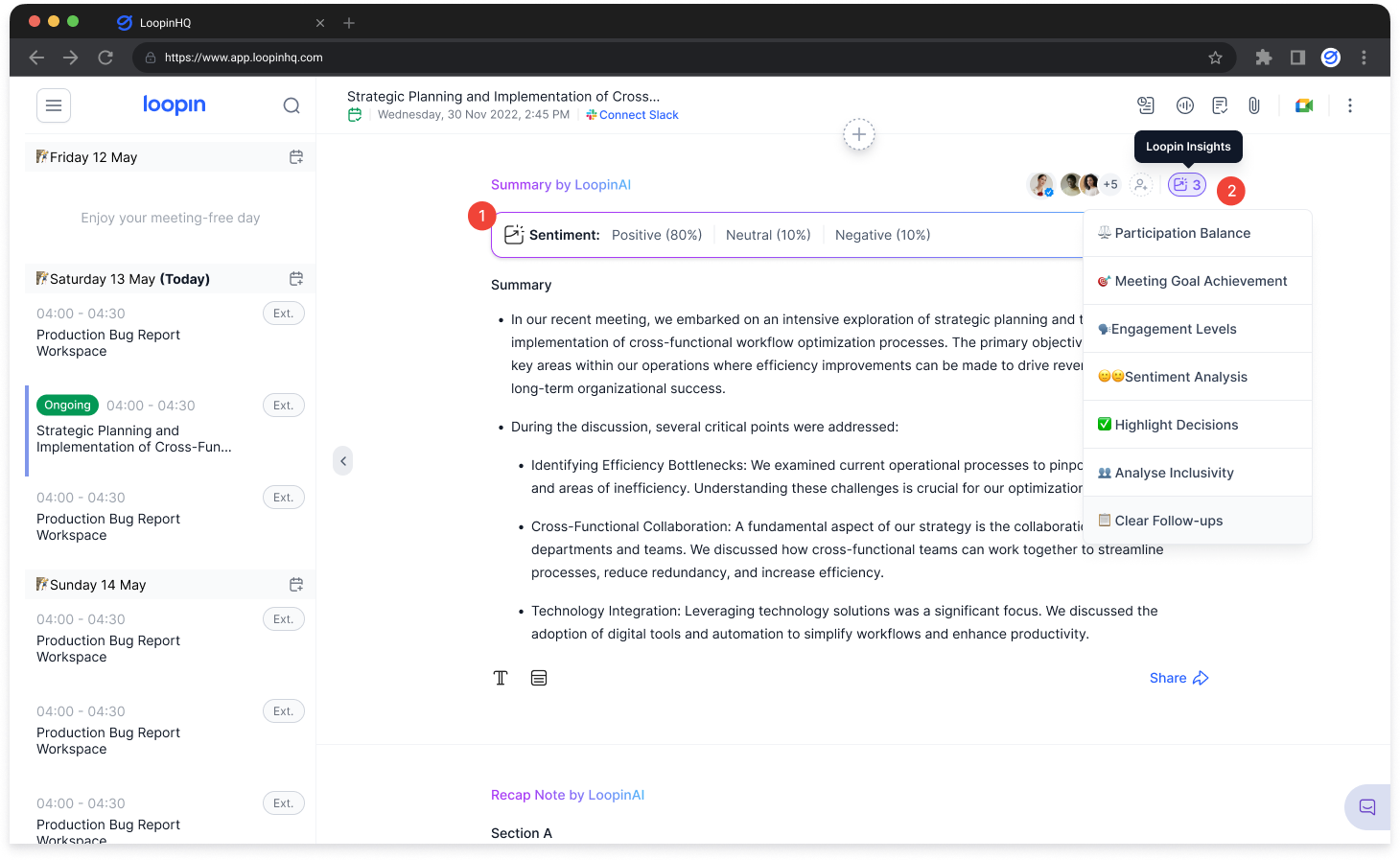 ⬆️ Loopin Insights (opens in Right Panel).

Insight cards provide quick, tailored meeting summary insights, with the front card customized for the user type.
Users have the flexibility to select from a variety of insight areas for more in-depth exploration, which is particularly valuable for sales users handling complex calls.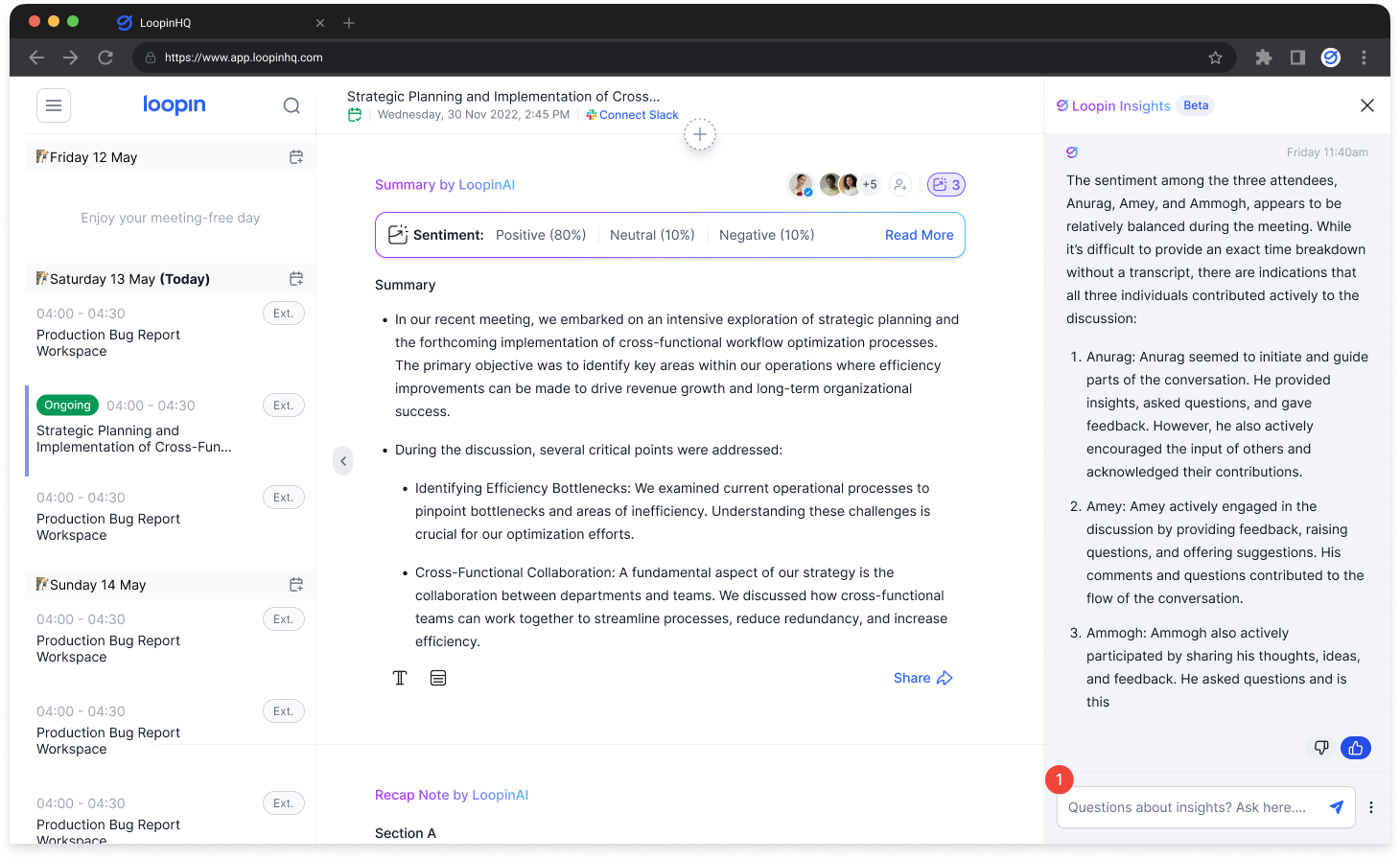 ⬆️ Loopin Insight Chat (Right Panel).

Users have the option to inquire further about specific insight areas by asking follow-up questions.
Tertiary Persona : Customer Success

⬆️Tertiary Persona: CS.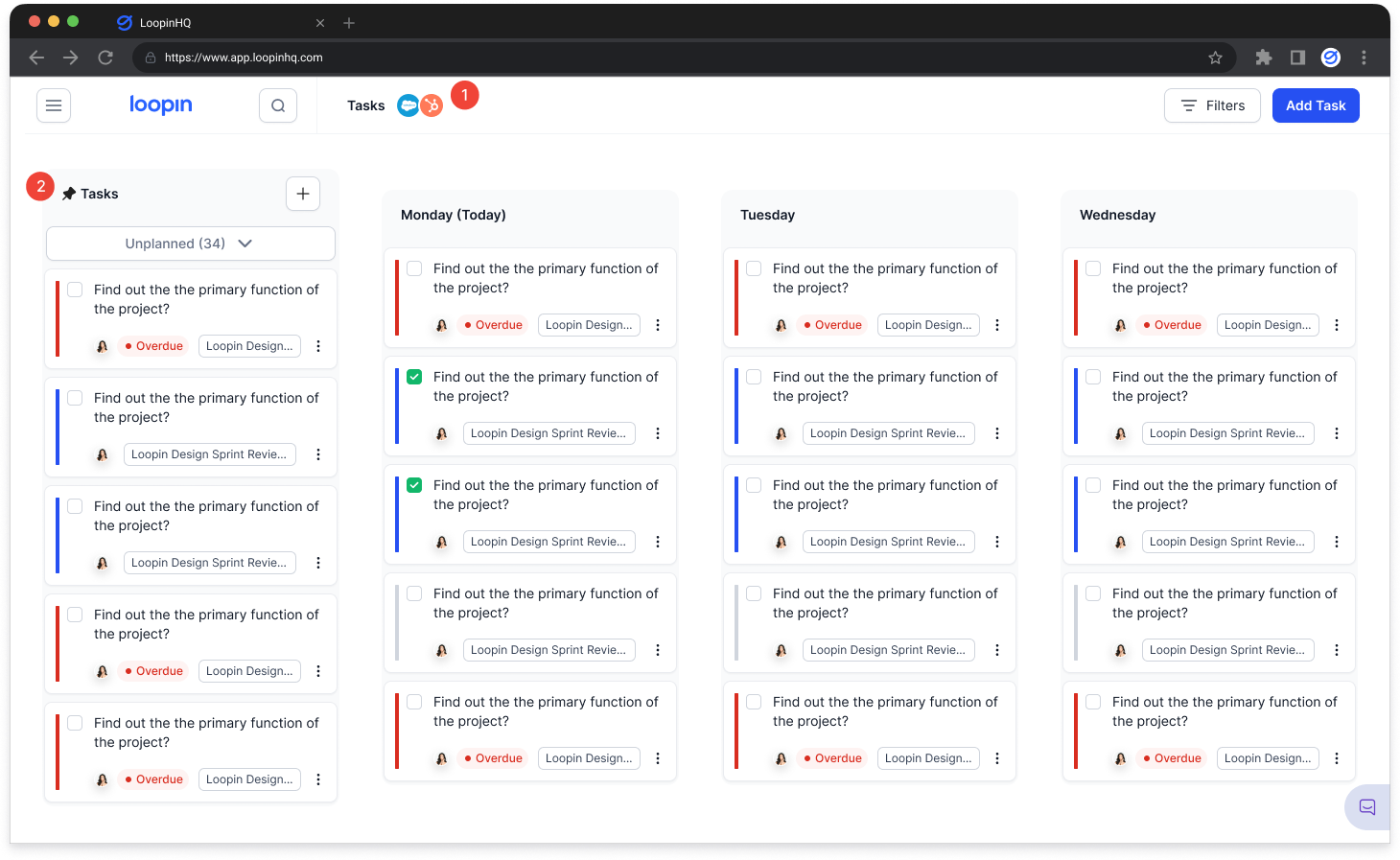 ⬆️ Loopin Tasks.
Deep integrations between Loopin and various CRM tools to streamline customer interactions and data management.
This feature was beneficial for the manager persona as well since integrations with tools like Trello facilitated in-app task management within Loopin.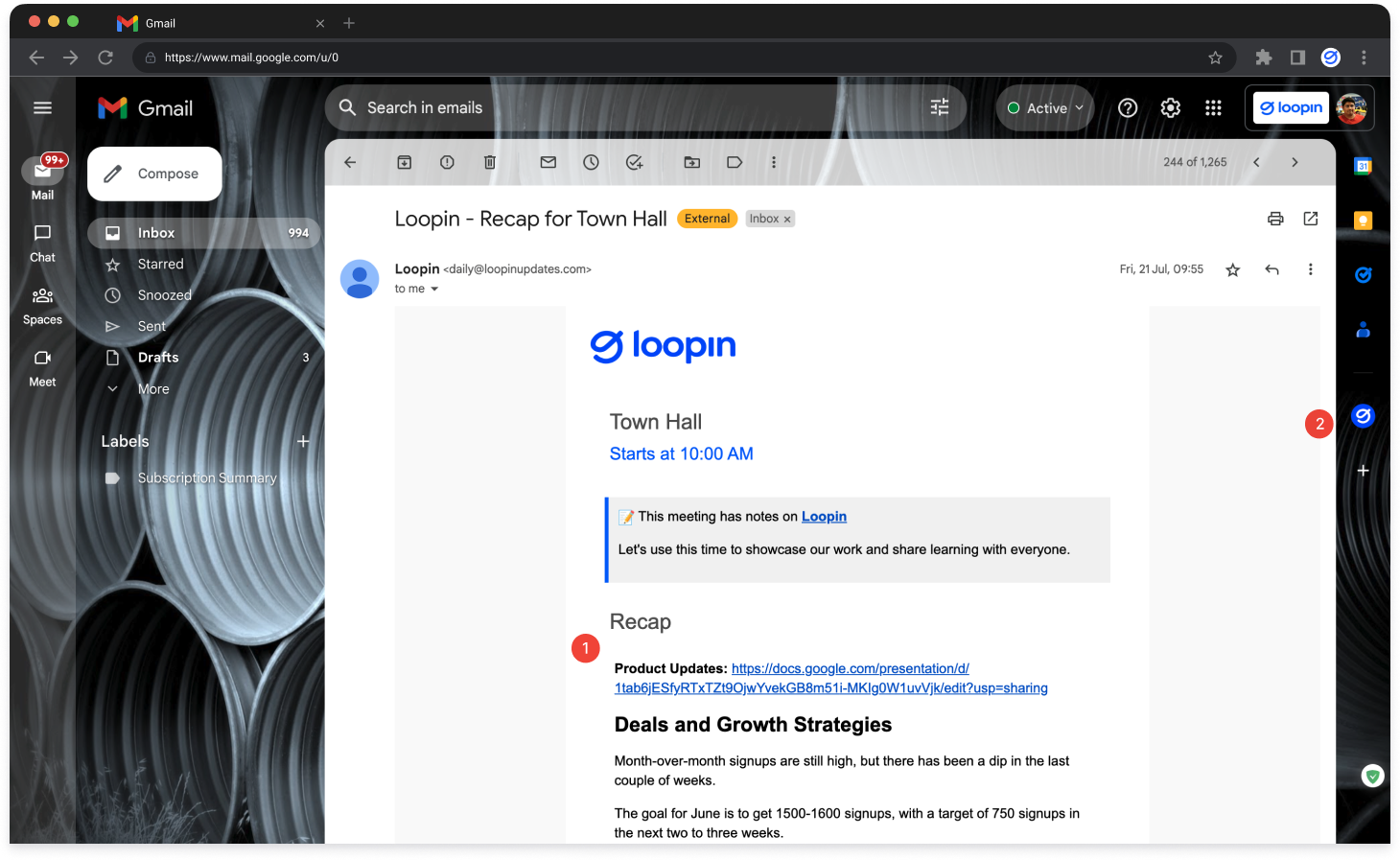 ⬆️ Loopin Automated Email.
Automated emails containing meeting summaries/recaps are sent to participants who engaged with the Customer Success team.
Loopin Chrome extension integrates with widely adopted workspace products and opens alongside those products, enabline seamless acess of Loopin features.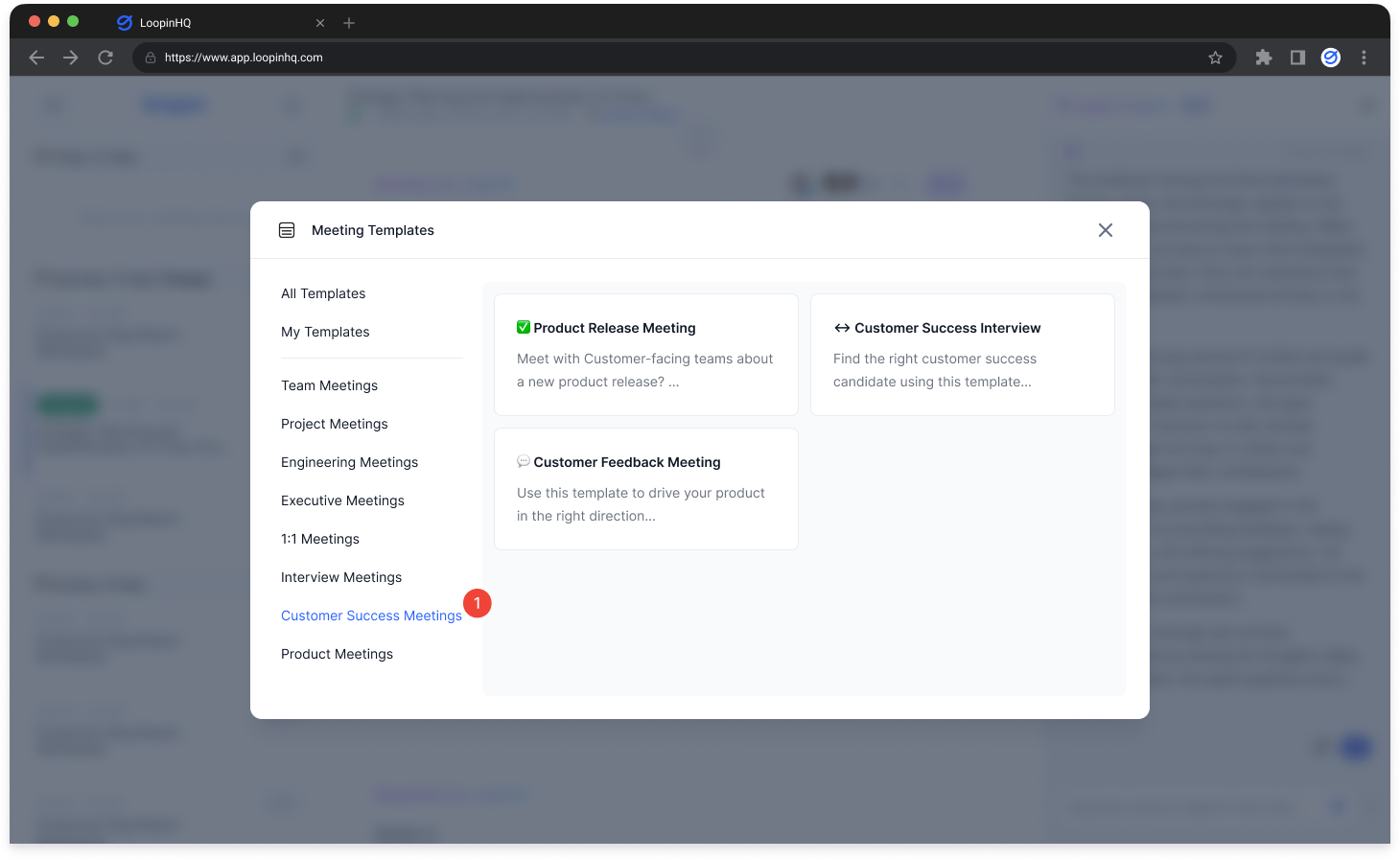 ⬆️ Loopin Meeting Template Browser.
Customizable templates empower customer success users to tailor summary formatting, language, and tone to create client-ready summaries.
When switching templates, the summary is automatically regenerated.
Outcomes / Mentions

⬆️ Outcomes.